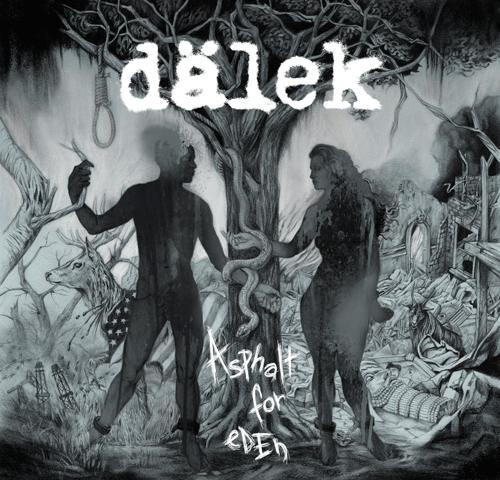 From the Desk of Profound Lore Records:
Experimental hip-hop noise pioneers DÄLEK have completed work on their new album "Asphalt For Eden" which will be set for release on CD/LP/Digital on April 22nd. This will be the first DÄLEK release since 2009's "Gutter Tactics" album.
Ever since their 1998 "Negro, Nekro, Nekros" debut LP, DÄLEK have forged a sound unlike any other entity in the DIY hip-hop scene where the band would take a style of dark urban hip-hop artistry and blend with a rhythmic backdrop consisting of noise, experimental music, shoegaze, and dark ambient. This would be showcased on four acclaimed full-length LPs released on Mike Patton's Ipecac Recordings (along with a collaboration with Faust and a b-sides compilation released through Hydra Head) throughout the course of the first decade of the 2000's. It was during said decade in which DÄLEK would share the stage with such a diversity of artists as KRS One, The Melvins, Tool, Jesu, The Dillinger Escape Plan, DeLa Soul, Prince Paul, ZU, Black Heart Procession, Flying Lotus, Mastodon, Grandmaster Flash, just to name a few notables. In 2011, DÄLEK quietly went on hiatus for an undetermined amount of time.
Fast forward to spring 2015 when producer MC Dälek himself with the blessing of former longtime member/co-producer Oktopus decided to resurrect DÄLEK with a new lineup that now consists of Mike Manteca on samples and effects and DJ rEk on turntables. The new lineup would release a new single/video for the song "Masked Laughter (Nothing's Left)" in the spring of 2015 likewise to mark their return.
DÄLEK's comeback release "Asphalt For Eden", which consists of seven tracks and clocks in at 38+ minutes, sees MC Dälek and crew take the DÄLEK sound to the next logical progression, presenting something new while still upholding the blueprint of the distinct sound they unearthed in the '90s. "Asphalt For Eden" is a new artistic statement from DÄLEK that will once again bring awareness to the importance of the band as game changers in the DIY hip-hop movement.
Featuring artwork and design by longtime DÄLEK art conspirator Paul Romano (Mastodon, Trivium, Hate Eternal, The Acacia Strain etc.), track listing for "Asphalt For Eden" goes as follows:
Shattered
Guaranteed Struggle
Masked Laughter (Nothing's Left)
Critical
6dB
Control
It Just Is