iconAclass
MC dälek – Vocals and Production
Dev-One – Vocals
Mixmaster Motiv – DJ
iconAclass is the new project from MC/producer Will Brooks best known as dälek. As front person and co-producer in the group Dälek he explored the left of center/ wall of noise world ala My Bloody Valentine meets Public Enemy on 6 studio albums.
iconAclass, his newest solo project, see him maintaining the gritty view of boom-bap he is know for, while returning to his roots.

For the Ones is pure hip-hop, hypnotic heavy beats serve as more than just a backdrop for this MC. They focus a spotlight squarely on the lyrics, and iconAclass has a lot on his mind!
Pushing forward into the new millennia, iconAclass is the next chapter for this ever evolving musician.
Their sophomore album Changing Culture with Revolvers features MC dälek back on production and Emcee duties, and recruits long time deadverse massive & Labteks member, Dev-One as a vocalist as well. The contrast in voice and rhyme style provides the album with a brand new take on hard hitting gritty East Coast Hip Hop. As always, cuts are provided by Mixmaster Motiv. Changing Culture with Revolvers is poised to open eyes and infiltrate eardrums.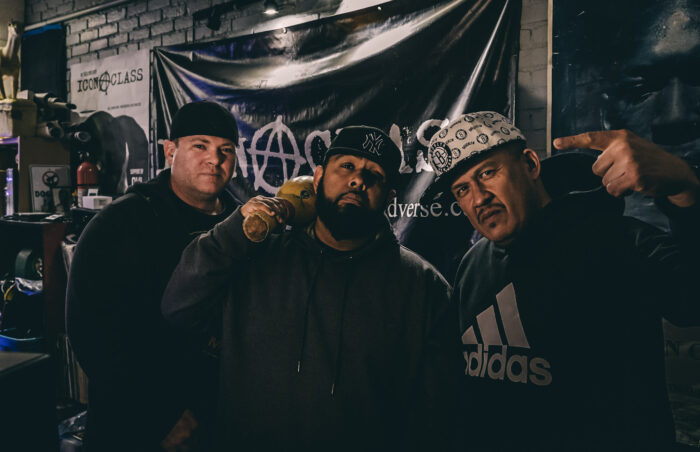 What people say
Even the most devoted fan of Dälek must admit that rapper Will Brooks's vocals often get drowned out by the industrial haze more than their eloquence deserves. As iconAclass, Brooks takes the juggernaut aesthetic of Dälek and bares it back to that classic hip-hop minimum: rhymes over beats. The cuts from DJ Motiv strike a perfect balance between old school boom-bap and bleak dystopian sci-fi, with just enough spacey psychedelia to stay this side of trip-hop.

Brooks pulls off the impressive feat of retaining the vicious hunger of an underground rapper this far into his career, and his drawling authority over incisive and precise lyrics summon more than enough gravitas to satisfy those longing for the sensory overload of Dälek. This stripped back combination make iconAclass a vital album for those who can't wait to see if the recent Company Flow reunion will result in a follow up to Funcrusher Plus

–ALI MALONEY (The Skinny)