Dälek
Pioneers of alt hip-hop, Dälek (pronounced "die-a-lek")
features
Rapper/Producer MC Dälek,
Producer/Live Electronics Mike Manteca
Forged in the fires of the East Coast underground music scene in the 90s, Experimental Hip Hop pioneers Dälek has spent decades carving out a unique niche fusing hardcore Hip Hop, noise and a radical approach to sound. Founded by Will Brooks (aka MC Dälek) and Alap Momin (aka Oktopus), Dälek debuted in 1998 with Negro, Necro, Nekros, a sonic tour de force built upon thunderous drums, blissful ambient sections and gritty, insightful lyrics. From the very beginning, Dälek came out the gate, following in the footsteps of their predecessors Public Enemy while drawing from influences as varied as My Bloody Valentine and German experimentalists Faust, Dälek have succeeded in adding completely new textural and structural dimensions to rap music. 
After signing with Mike Patton's renowned label, Ipecac Recordings, Dälek went on a virtually unparalleled run throughout the 2000s releasing a string of ambitious and challenging albums including, …From Filthy Tongue of Gods and Griots (2002), Absence (2005), Abandoned Language (2007), Gutter Tactics (2009). A visceral and powerful live act, Dälek spent over a decade touring and bringing their raucous and blistering performances to audiences around the world. During this time they toured with and supported a wide range of acts in the Hip Hop, Rock, Metal, and Experimental genres including KRS One, TOOL, Tomahawk, The Melvins, Grandmaster Flash, Jesu, Dillinger Escape Plan, Pharcyde, RJD2, DeLa Soul, Prince Paul, Lovage, ZU, Black Heart Procession, Earth, Flying Lotus, The Bug, Mastodon, Fantomas and many more. 
In 2015, Brooks recruited long time associate Mike Manteca (Mike Mare) to handle co-production duties for 2016's Asphalt For Eden and 2017's Endangered Philosophies, returning Dälek to the forefront of rap's avant-garde with dramatic, noise and feedback-drenched beats and Brooks' insightful street poetry. Extensive worldwide touring culminated with 2019's Respect to the Authors EP released on German label Exile On Mainstream. In the wake of the COVID-19 pandemic, Brooks found himself going back to Dälek's DIY roots with MEDITATIONS, a 7-part series of evocative soundscapes and raw songs recorded on a 4-track and released on Dälek's own independent label, Deadverse Recordings.  
With plans to resume touring the United States in late 2021 (with the current lineup of Brooks and Mike Manteca) as well as a follow up to Endangered Philosophies, which will also be released on Ipecac Recordings, the future for Dälek is bright and promising. After decades of challenging and expanding the sonic fabric of Hip Hop itself, giving way to new approaches and possibilities, Dälek is set to take their rightful place as one of the culture's true innovators. 
"DÄLEK's take on hip-hop is foreboding and hypnotic in a way that feels unexpected; sure, in the Age of Future, creepy, dark vibes are almost de rigeur, but DÄLEK takes it a step further towards the abyss by incorporating a seething electronic edge—think Einstürzende Neubauten, not Soundcloud." – Noisey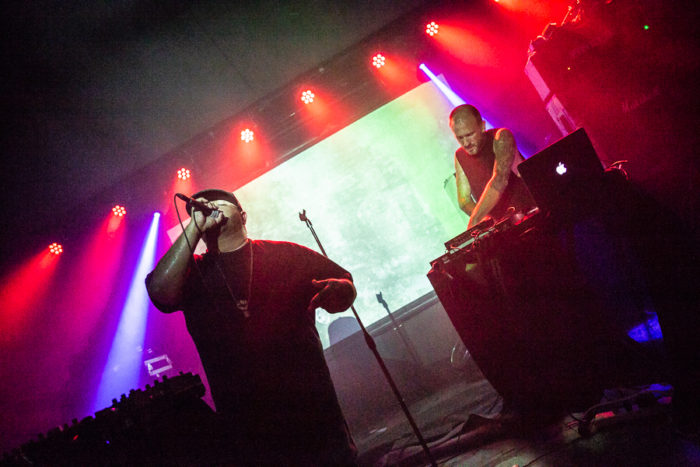 photo by Melinda Oswandel
VIDEOS:
---
MANAGEMENT

:

UNITED AUDIO WORKERS Erik Larson: [email protected]
BOOKING

:

North America: CRACKNATION
Jason Novak: [email protected]

Website: www.cracknation.com

Phone: 773-793-0119

UK:
Ricardo Biondetti: [email protected]

EUROPE: JULIE TIPPEX
Etienne Tippex : [email protected] http://julietippex.com
LICENSING

:

FACET CUBED:

Pete D'angelo [email protected]
PRESS

:

North America:

 SPEAKEASY PR

World:

RARELY UNABLE
Lauren Barley: [email protected]
What people say
"A tour de force of an album that further cements the bands place in the elite league of hip-hop artists that are still taking this art form further and further into the stratosphere." – Louder Than War "Dälek took hip-hop into new stylistic realms before. This time, although Brooks and company may not have specifically intended as much, on Asphalt for Eden, hip hop ascends into the noosphere." – Pitchfork "Mixing the searing political rhetoric of Public Enemy, the suffocating shoegaze textures of My Bloody Valentine and the primal appeal of squealing industrial noise…" – Rolling Stone "…Asphalt for Eden is thoughtful and eclectic, blending elements of shoegaze, industrial, boom-bap, and ambience both sedative and rousing." – Sputnik Music "Nearly every moment on Asphalt For Eden weighs heavily on the chest and threatens to collapse the cavity." – The Quietus