Deadverse Massive
is a hip hop collective featuring the production of dälek (Will Brooks) along with the Emcee talents of Gym Brown, Dev-One, Oddateee, Skalla, D.L.E.MM.A, and MoRikan. Cuts are provided by Mixmaster Motiv. The debut album TakeOver features that classic East Coast Boom Bap style through the filter of dälek's production. Envisioned as a sampler of what these talented Emcee's will bring for albums to come, the deadverse massive is not to be slept on.
dälek the group and the deadverse massive are worldwide: Releasing four acclaimed LPs, sharing stages across the globe with Raekwon, Flying Lotus, De La Soul, KRS-One, RJD2 and countless others, collaborating with German pioneers Faust…you know, no big deal. dälek the man, aka MC and producer Will Brooks, and the deadverse massive album TakeOver, on the other hand, are 100 percent East Coast.
As much an architect of the dälek sound as the voice of it, Brooks produced the 18 tracks on TakeOver with an ear toward classic '90s East Coast hip-hop and a refusal to make something that anyone could ever call "retro" or "throwback." "Obviously there are a ton of other influences that go into the dälek sound, but what I've always brought to the table is that raw hip-hop sound," Brooks says. "I wanted to make a record that emphasized that sound: Heavy beats, bass, MC-driven."
The MCs demanding your attention on TakeOver converged on Brooks' deadverse studios from Brooklyn and North Jersey, bringing experience from the LabTeks (Dev-One, Oddateee), DLC Corporation (MoRikan) and from a veteran MC who has released solo albums, appeared on mix tapes, and collaborated with countless artists from both East and West coasts (D.L.E.MM.A.). "Bringing all these personalities together to spit could have easily been a nightmare. Instead it was awe-inspiring, the way styles just meshed," he says. "For real, the hours and hours I spent editing were a joy. It's easy to work on joints like these." Brooks had originally planned to produce the tracks and spotlight some new MCs like Gym Brown and Skalla (who give the world a new classic duo cut with "Chaos"), but eventually, he says, "the MC in me wouldn't let me just sit on the sidelines!" So Brooks jumped on four tracks, including the definitive closer, "It's Over." Obviously, solo joints and collaborations are being cooked up in the studio as you read this.
From the first dälek EP in 1998, the deadverse massive has united artists who speak what Brooks calls "a classic language that hadn't been heard at that time. On the song 'Three Rocks Blessed' I say 'dälek, deadverse no rehearse when two meet.' What I meant was me and [dälek co-producer] Oktopus were speaking a dead verse or a dead tongue that not too many heads speak any longer." But a lot of heads have learned that language since then, and a lot of them came together to create TakeOver, so the world had better learn it quick. It's called TakeOver for a reason.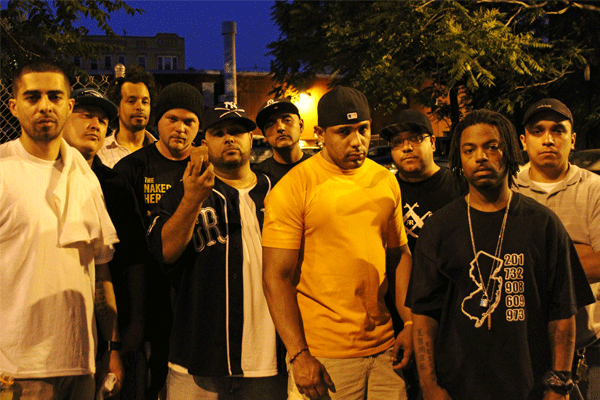 What people say
These are fascinating times for Hip Hop. After years of moving between East and West Coast domination, the music these days has no leader. Sure there is no shortage of rappers but, as the Beastie Boys and Nas say, not enough MCs. Right now, there is no real movement in Hip Hop outside of grabbing the quick buck. The art form is tipping into despair and usually, from that darkness, comes a new sound to bring the light. One band that's been a long standing solider in the war against wack rap is New York City's Dalek.

Produced by Will Brooks (aka Dalek) comes a new full-on East Coast Hip Hop savior album titled Takeover, from a raw Hip Hop crew of MCs known as Deadverse Massive. Takeover is stunning combination of old school feeling and new school flows. Dalek strips everything down here and focuses only on the creation of original sounding music. Pianos, bass lines, strange and off-time beats, it all combines into a kind of world-weary sound. This is the album Hip Hop was calling for, even if it didn't know it.

Deadverse Massive wastes no time getting into the groove. The opening title track is a stoned head-bopper, a beat that makes you smile with an "Oh yeah that's the shit" smile. Laced over this musical trip are rhymes that will inspire you to stop and rewind each section. MCs Gym Brown, Oddateee, D.L.E.MM.A, and Skalla move through their parts with such a confident ease that it becomes as much poetry as it straight rhymes. This sound takes me back to the days of watching MCs battle at street parties.

The next track "We Know" takes things up a level with a simple keyboard line that sounds like the hook from a seventies crime movie. The opening words stating, "I like this Dalek", sums the track up perfectly.Takeover is built on the vibe of bringing Hip Hop back to a street level it's been sorely lacking. I don't mean in some kind of simple-minded violent way, but more something filled with the kind of innovation only struggle and passion can bring. Takeover is a true Hip Hop album, the way everyone from Afrika Bambaata to Boogie Down Productions to Eric B. & Rakim did it before there was a bottom line and a dress code.

I became particularly obsessed with the Gym Brown solo track "Gymmie Brown". It has everything I love about Hip Hop mixed in it. Drum loops you can dance to or just bop to, a bass line that pushes the tune along and a slight horn refrain. Take that and add Gym Brown's innovative style and that's all you need. "Deadverse Classic" is another fantastic track and one of the few to feature Dalek on the mic.

Don't let my constant attention to the street level and old school vibe of Takeover fool you. This isn't a nostalgia thing; Takeover is fully pointed towards the future of Hip Hop and the MCs involved flow with a futuristic style. What Dalek and Deadverse Massive understand (much like the Beastie Boys on their new album) is that the future of Hip Hop will be rooted in MCs and DJs getting back to basics. Do we really want Hip Hop to end up like Punk Rock? A sad shadow of what it once was? It's time to end the mafia bullshit and millionaire lives that nobody can relate to. This is an art form that started in the streets and only there will it regain a sense of what is real.

Takeover works for the same reason the Rick Rubin stripped down Johnny Cash stuff does. Those albums took all the fanfare surrounding Cash out of the equation and brought it back down to a man with his guitar Dalek does the same thing with Hip Hop. He brings it back down to MCs rhyming over beats built from imagination not pop singer hooks and sampling. For those who aren't sure where the future of Hip Hop is headed, I urge you to check out Takeover and re-discover just how amazing this music can be.

-Iann Robinson (Crave Online)