dälek (Asphalt For Eden Record Release) with Dreamcrusher
Fri, April 22, 2016
Doors: 8:00 pm

/

Show: 9:00 pm
The Bell House
Brooklyn, New York
This event is 21 and over
dälek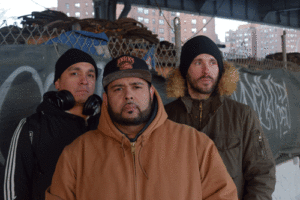 Hailed by critics as risk takers and pioneers for a new generation of hip-hop. Dälek have returned with their signature mind numbing, genre bending blend of beats, noise, and lyricism with MC dälek, DJ rEk on turntables, and Mike Manteca on samplers & effects.
Their incredible back catalogue consists of numerous ground breaking records: Gutter Tactics (2009), Abandoned Language (2007), Absence (2005), …From Filthy Tongue Of Gods And Griots (2002) – all released on Ipecac Recordings, Negro Necro Nekros (1998) released on Gern Blandsten, and successful studio & live collaborations with Young Gods, Techno Animal, Faust, KID 606, Zu, and Velma.
Touring extensively for over a decade, Dälek have sonically abused the masses at some of the biggest Music Festivals: Eurockéennes, Dour, Roskilde, Asymmetry, Iceland Airwaves, Massive Attack's Meltdown Festival and ATP … just to name a few, and have shared stages with influential artists such as KRS One, Tomahawk, The Melvins, TOOL, Grandmaster Flash, Jesu, Dillinger Escape Plan, Pharcyde, RJD2, DeLa Soul, Prince Paul, Lovage, ZU, Black Heart Procession, Gaslamp Killer, Earth, Flying Lotus, The Bug, Mastodon, and Fantomas.
Live, their shows are an intense event that often end in a shoved mic stand and sonically assaultive layers of sound. Always original, Dälek stuns crowds and will blow you away with their words and music. Witnessing Dälek live is like coming face to face with the bastard child of Public Enemy and My Bloody Valentine. An amalgamation of the heaviest noise that the Velvet Underground or Merzbow ever unleashed and the knowledge spit by the likes of Rakim, that leaves you in a trance and sends shivers down your spine from the haunting beats intertwined with ambient textures and noise-scapes, that are carried by a powerful raw flow from one of the most charismatic MC's of his, or any era.
Dreamcrusher
Dreamcrusher is a genderqueer/non-binary, straight edge, vegan electronic musician. Creating immense, abrasive, sometimes rhythmic and often isolating soundscapes with bursts of melody choking through overwhelming sonic cacophony. Moshpit worthy, high energy harsh noise vessels through hardcore, punk and shoegaze influences; it's an exercise in immersion and endurance. From Wichita, Kansas and based in Brooklyn, New York.