Creation Four
THE WRITTEN WORD – THE ICONACLASS MANIFESTO
by Will Brooks
Edition of 100
SOLD OUT
FREE .PDF DOWNLOAD (Pay with a Tweet)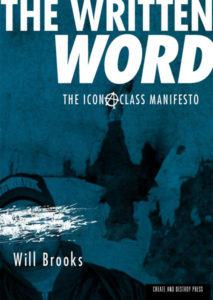 It's the return of this angry brown bastard"I carry my world on the shoulders like Atlas
I've had it!
Wack crews out flanked by the Massive
Last thing you say 'bout Deadverse is we passive."
iconAclass – Long Haul
"A talent like dälek can't be limited by music alone… this book is necessary." – Prince Paul
The Written Word: The iconAclass Manifesto is a book by Will Brooks, perhaps more widely known under his Emcee name dälek, in collaboration with graphic design artist Thomas Reitmayer.
In his twelve year history with dälek, Brooks recorded six studio albums, did collaborations with the likes of Faust, Techno Animal, Young Gods, If/When, Kid 606, and DJ Baku, and toured the world extensively. His new project iconAclass sees Brooks maintaining the gritty view of boom-bap he is known for, while returning to his roots: it is pure HipHop, where hypnotic heavy beats serve as more than just a backdrop for this Emcee.
The Written Word: The iconAclass Manifesto is a collection of all iconAclass lyrics to date (their debut album For The Ones and the I Got It EP). Focussing heavily on the lyrical side of HipHop, Brooks' lyrics deal with everything from race relations to religion to corporate greed, putting a spotlight on the culture of HipHop itself with countless references to artists past and present.
Will Brooks and Thomas Reitmayer have been friends for many years, DJing and drinking and sharing an affinity for Badalato's Pizzeria. This collaboration finally found it's focus in the release of The Written Word: The iconAclass Manifesto through Reitmayer's newly founded Create and Destroy Press.
– 56 page oversized paperback book
– Limited Euro tour only edition of 100 handnumbered copies
– Foreword by Adam Jones (Tool)
– Contributions and quotes by the Melvins, Hans-Joachim Irmler (Faust), Charles Hayward (This Heat), and Prince Paul.
"The Written Word is an extension of what makes dälek the incredible musical force that he is. It's a sense of understanding the world around him and translating that into an artistic statement that moves people. It's punk, it's HipHop, it's radical idealism done with a style so unique it can only come from a true visionary" – Iann Robinson