The dark, impossibly intense dirges, industrial noise onslaughts and banshee-like free jazz wailing heard throughout Anguish could be an imposing soundtrack for a dystopian, post-apocalyptic future. This powerhouse, inter-generational offering and RareNoiseRecords debut brings together an unlikely gathering of members of the New Jersey-based experimental hip-hop group dälek (electronic musician and vocalist Will Brooks with guitarist-keyboardist Mike Mare), the Swedish free jazz group Fire! (tenor saxophonist Mats Gustafsson, drummer Andreas Werliin) and the classic '70s German krautrock band Faust (keyboardist and 68-year-old founding member Hans Joachim Irmler).
Recorded in just three days during the summer of 2018 at Faust's Scheer Studios, located in a former factory perched on the banks of the Danube in Swabia, Germany near the Swiss border, ANGUISH stands as a hard-hitting manifesto for the next evolution in the hip-hop legacy. Irmler explains that the seeds for Anguish were planted several years ago.
"About 15 or 16 years ago I was told by (guitarist) Christoph Lindner that there is a hip-hop band living in New Jersey that knew a lot about Faust, and I was really wondering about this. So I decided to invite them to come to my place. This is how I met Will and Mike and the others from Dälek. We had a great time and we decided to meet again together with the guys from Faust. And we made an album, Derbe Respect, Alder, which means 'respect the old guy.' And this album, in my eyes, is a really great album because the hip-hop was done totally different than ever before. The two worlds came together on this project and it's still a mark in the world of prog-rock and hip-hop."
Anguish is a logical extension of that initial 2004 collaboration, reuniting key members of Faust and dälek with core members of the Swedish improvising outfit Fire! Orchestra.
"Anguish was created in a fierce improvised blur," adds Werliin. "There were noises coming out from the headphones and we started to make more noises. It was like instant composing. We were all in the same room, close enough to see facial expressions but still on a safe distance from each other. And Joachim, who also made fantastic food for us during the session, was strolling between his kitchen and homemade synthesizers."
Adding Faust's Irmler, dälek's Mare and Fire! Orchestra's Werliin to the mix gave the perfect balance they were looking for on ANGUISH. "It gave us really an endless amount of possibilities, and it's been so freakin' inspiring to work with," said Gustafsson, who also has high praise for his Fire! Orchestra bandmate Werliin.
"Andreas is the best drummer in the world when it comes stop-time related drumming. The way he deals with time and punctuations and variations…he's like the most dynamic clock ever. For me, he is the ONE. And what he brought into this session is magic."
What all the members have in common is a hard-edged sensibility, a rebellious streak and an urge to explore. "It is all about creative music and interaction on a music level and on a human level," says Gustafsson. "It's the only way to go.
Anguish are: 
Will Brooks (mc dälek) – vocals, SAMPLR, Eventide/Elektron effect pedals, 1 note on MOOG rogue, 3 notes on grand piano
Mats Gustafsson – tenor saxophone,live – electronics, 3 notes on grand piano
Hans Joachim Irmler – synthesizers, vocals
Mike Mare – guitar, electronics, synthesizer
Andreas Werliin – drums, percussion
Tracklisting:
Vibrations
Cyclical/Physical
Anguish
Gut Feeling
Brushes for Leah
Healer's Lament
DEW
A Maze of Decay
Wümme
Recorded and mixed by Johannes Buff
Assistant Engineer: Jan Wagner
Recorded at Faust Studios, Scheer, Germany July 14 – 19, 2018
Mixed at END NOTE
Bayonne, Basque Country July 23 – 27, 2018
Spiritual counsel – LENNI
Mastered by Michael Fossenkemper
Mastered at Turtle Tone Studios, NYC, NY
All songs composed by Will Brooks, Mats Gustafsson, Hans Joachim Irmler, Mike Mare, and Andreas Werliin.
All song published by Mayan Ruins Music (SESAC), Mike Mare Music (BMI),
All lyrics by Will Brooks, Mayan Ruins Music (SESAC) except "Healer's Lament" by Kamau Daáood.
Executive Producer for RareNoiseRecords:Giacomo Bruzzo
Design & Layout by Paul Romano
Sculpture by Darla Jackson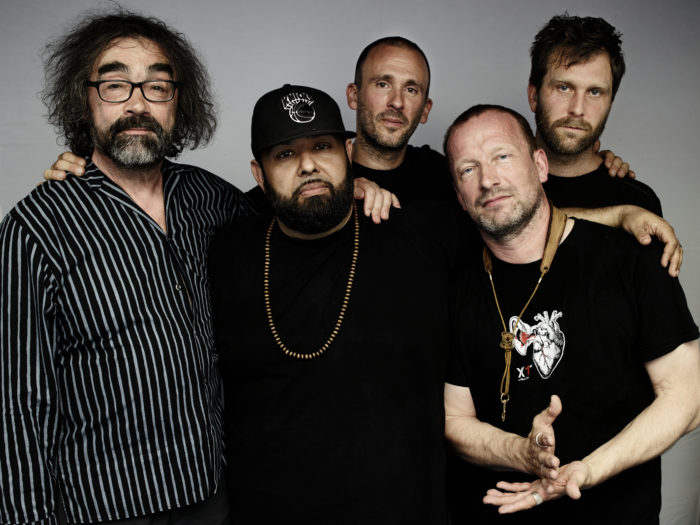 ANGUISH LIVE AT MOERS FESTIVAL ON ARTE TV